10/15/2018.
We have been stockpiling updates. CYE re-release party coming soon!!!
6/20.

It's just you, our casted hottie, and the vibrator...

6/13.

Our spin on a brat-girl POV video. Come in and watch!

6/6.

Crazy people always feel sane, that's why I'm here--to help.

5/30.

I never could resist a challenge...

5/23.

You had to be there to believe it. Next best thing: This week's video update. A boy, three girls, and no one leaves till I say so...

5/16.

Melty Molly is made malleable--meaning many massive... uh....is there a word for "climax" that starts with "M"?
Ah, forget the alliteration, just get in there and brace yourself.


5/9.

Our sister site is worth mentioning this week, if only because we finally hired that on-staff, live-in hypno-therapist we've needed for so long.
Wait, what?


5/2.

You're not gonna believe what Toki did to get into another cast--I didn't believe her at first, either, but she's got a doctor's note... inside. :)


4/25.

They say you can never go too far. ...OK, I say that. You should probably just stick to the update..


4/18.

Girl-on-girl cast action, new superpowers revealed, and there's even a Macguffin. Yeah.


4/11.

This is the scene that I'm referring to (see below).


4/4.

Please don't be mad Mia's update is sooooo late--I think the video more than makes up for it, and if not, members get early acess to next week's scene, too.


3/28.

Nickie has this amazing ability to be completely hilarious and totally sexy at the same time. Come inside and see!


3/21.

Mary volunteers to be our test subject in our quest for the perfect long leg cast.


3/14.

A veteran cast-ee talks about her experiences.
3/7.

No one wants to be the center of our attention--no one.
2/28.

This week, Morgan puts fiberglass to the ultimate test.
2/21.

Come in and check out this DIY tutorial with Darren! It starts out pretty innocent...
2/14.

Molly + cast + sensory deprivation = yes please. Lucky you, it's this week's update. :)
2/7.

Toki wants help, but she'll have to help herself this week. And by help I mean masturbate. And by herself I mean I'll be watching.
1/31.

Jeez, Sam's been in that full body cast for an awfully long time...
1/24.

No pouting here-- Mia's new to casts and just happy to be here. (We'll get her to pout next time.)
1/17.

Carlin talks about the kind of guy she's looking for to take her on a cast date.
1/10.

Like a beautiful rare bird, Darren's appeared back in our lives, and I caught her for you.
1/3.

The prima ballerina made it this far because of her stubborn determination--that didn't break with her ankle, silly understudy...
12/27.

Blue's just glad she didn't break her arms.
12/20.

Hadley looks like she's having a tough time adjusting to life in her casts. Can anyone help her?
12/13.

Bare toe-tickling? In a binding mummy cast? Check and double check.
12/6.

Adorable model catchphrases this week, come inside and be charmed.
11/29.

Gen and Molly have a kind of relationship that leaves love-marks. Wait, what?
11/22.

Samantha receives some life-changing news this week.
11/15.

Nickie gets a special visit from the night nurse.
11/8.

Morgan's got a friend with a cast fetish-- lucky girl.
11/1.

If you think it's easy living with a cast, Malivu has news for you.
10/25.

Mary just can't seem to keep herself in one piece these days...
10/18.

Even in a cast, Ramona can't resist an escape challenge.
10/11.

Lizzy has a special request, and we are all too happy to oblige.
10/4.

Our latest newbie gets a steamy introduction to casts.
9/27.

Come see the softer side of Carlin.
9/20.

Drama-filled update, Naomi gets taken by surprise, a few times actually...
9/13.

A nice quiet afternoon with Julia, in two casts at once.
9/2.

Moral of this story: Never give up, and always check your keys.
8/30.

Got some discomfort under that cast? We've got just the thing for it.
8/23.

We have a strict "no mercy" policy when it comes to tickling. And vibrators. :)
8/16.

Another day, another bondagette that needs to learn the hard way.
8/9.

Molly gets a little tough love in a top half-body cast, inside.
8/2.

The new game: Stay quiet for 60 seconds to win. No talking at all, not even begging.
7/26.

An FBC and the violet wand all at once--it's a day of new experiences for Skylar.
7/19.

Two casted arms and a chastity belt... what's a poor girl to do?
7/12.

Ever wish you could hug curvy little Ramona so tight and never let her go? Well, you can't. But I can.
7/5.

A new casted cutey-pie, crutching and curious and all yours...
6/28.

Mary needs special attention if she's going to make a full recovery.
6/21.

Cutey crutching just for you.
6/14.

The longest day of all time continues...
6/7.

A hypnotic cast session with Anna- inside!
5/31.

Extended stuckitude, in which I remotely control the vibrator in question from a bar downtown. Thank goodness for modern technology!
5/24.

Looks like there was a little mix-up at Raye's appointment. Whoops!
5/17.

Kitty reluctantly explores her own deep dark fantasies of control.
5/10.

Poor Naomi, stuck in a cast with nothing to do...
5/3.

A day feels a lot longer when you can't move anything. At all.
4/26.

Our tiniest co-ed gets a shocking form of treatment... Inside!
4/19.

Silly Kitty! When has asking to be let go ever worked here?
4/12.

A newbie almost too sweet for bondage, but not quite.
4/5.

Surfer girl turned mummy girl. Meet Naomi.
3/29.

She wants to be our very best escapologist, but escapologists don't thrive here, actually.
3/22.

Weird babysitting woes! Inside.
3/15.

How did she get here? Why can't she move? Our "abductee" submits to an unfamiliar world...
3/8.

In trouble AGAIN. Casted Caroline can't catch a break.
3/1.

A day in the life of a CYE employee... inside!
2/22.

Our kinky nurse explores her secret sleepy fetish with pooooor stuck patient.
2/15.

A slippy driveway leads to an interesting afternoon for an adorable co-ed.
2/8.

A very special college graduation party for Harley, inside!
2/1.

You guys always seem to enjoy watching me drill a girl into bondage, so, here you go. (It's a newbie, too!)
1/25.

I said "research" but really, it's for my own twisted amusement. ;)
1/18.

Aw shucks, our fresh-faced little co-ed's first casting experience is soooo horribly tickly that she's already asked to come back.
1/11.

Lessons in how NOT to escape, from Cindy the hottie.
1/4.

Barely into 2014, and the bondage video of the year award goes to... in the preview section.
12/28.

A merciless nurse tests rigid Anna's boundaries, from top to bottom and especially all those in-between places.
12/21.

Our fave freckleface volunteers to be Molly's cast test mummy. (Get it?)
12/14.

That moment when the casted girl stares right into the camera, glassy, helpless, stares right at YOU. This is one of those videos. Don't miss.
12/7.

Grace goes through the gamut of stuck-ness.
11/30.

Is there anything harder to resist than a blonde with a European accent... in a cast?
11/23.

Cara caught in the nasty nasty act.
11/16.

A soapy shower for Skylar, and guess who gets to watch? ...That's right, YOU!
11/9.

A full-body bondage fantasy comes true, finally, inside.
11/2.

Escapologist's kryptonite: Fiberglass and a magic wand. Who knew?
10/26.

This scene is so naughty, it'll make your dirty thoughts blush!
10/19.

Cute, curious newbie alert! C'mon in and see...
10/12.

Looks like Molly's not ready to compete in professional Casted Scavenger Hunts. Nova, on the other hand...
10/5.

THIS is why skateboarding in the dark is dangerous, Ramona!
9/28.

You never know who's going to get all shy and sexy once they're casted...
9/21.

Guess who's back, and already in a cast!
9/14.

Our sister site showcases a newbie who's really incredible. Check her out, you'll thank me later.


9/14.

Tumble down the rabbit hole with a girl so fetishy, she should have paid ME for this scene. ;)
9/7.

We explore Eliza's clinical fetish tendencies with full-coverage bondage.
8/31.

The only thing better than a pretty girl is a pretty girl who can't tell when she's being tricked into bondage. Wait, what?
8/24.

A medley of sweeter, gentler cast scenes this week, for a different flavor. They still can't get out though, promise.
8/17.

Look who's finally the one stuck...
8/10.

Sassy, sexy dancer Nova is going to crutch her way right into your heart, and other organs too, probably.
8/3.

A "physics" experiment results in our update. Tee-hee!
7/27.

This week, we take a risk and try a slightly-weirder-than-usual scene with a brand new hottie. It was a good risk. :)
7/20.

A gorgeous newbie in her first cast, and one of our cutest is the person applying it. Sizzle sizzle, come inside!
7/13.

Your new fetish princess is waiting inside the site, inside a full body cast.
7/6.

Poor Cara, lost and immobile...
6/29.

There might be a girl under all that fiberglass, but it's hard to tell, come inside and see. :)
6/22.

Ariana gets surprised with more bondage than expected.
6/15.

A ginger hottie finds herself frustrated and stuck, still.
6/8.

Fireworks! At least, that's what it seems like when we get Lizzy in a casted cocoon...
6/1.

Deaconness detained. And a new helper makes an appearance. Yep, even my assistants are hotter than the average girl...
5/25.

A kidnapped cutie is surprised to learn this kind of bondagey treatment excites her. Learn something new every day...
5/18.

An intensely sexualized scene with one of our hottest.
5/11.

A rigid institutional game gets really real, for Elizabeth.
5/4.

One of our cutest scenes to date! I had a really fun afternoon teaching my favorite intern so far how to cast, how to crutch, how to tickle...
4/27.

A babe straight out of an Amazonian fantasy tries on some cast shackles, falls in love with fiberglass.
4/20.

NEWBIE ALERT! Don't miss our freckle-faced cutie-pie, jumping right in with a bodycast.
4/13.

Find Riley, under layers and layers and layers and layers of soft yet restrictive gauze. A beautiful, bondagey scene you don't want to miss. Come inside.
4/6.

This week's cutie is as much a fan of the site as you--well, almost--so she thought she was prepared for her first cast bondage shoot. But the hardness and confining nature of a rigid cast is a lot different when you're in it, than when you see it in pictures...
3/30.

A cast mermaid washes up on the shores of your fetish fantasy. Quick, what do you do?
3/23.

Carlin might be cured, but now you've got a problem.
3/16.

Check the previews for an adorable newbie and an adorable free video.
3/9.

Little girl lost comes in her first her first cast visit. We'll do what we can, but sometimes, once you start down this path, there's little to be done...
3/2.

Newbie newbie newbie, can't you see, sometimes your cast just hypnotizes me.
2/23.

Harley, whom we'd thought cured, returns to the facility, frustrated and worse off than before. A new tactic is neccessary.
2/16.

A kinky subbie Aubrey returns for more bondage, kinksters rejoice! Especially me. :)
2/9.

Solo Lizzy plays with immobile masturbation themes, your heart.
2/2.

Two weeks in a row, now, you get a smokin' hottie's premiere vibrator scene. You guys owe me, big time.
1/26.

Jensey's first orgasm scene is a lovely combination of tender and dirty. C'mon in and see. :)
1/19.

A cast idea so good, we're considering patenting it.
1/12.

Jade gets lost in bodycast bondage.
1/5.

A steamy newbie pleads for mercy in her first-ever bondage scene.
12/29.

Carlin makes a subscriber's wish come true in a very special cast.
12/22.

An escapology queen meets her match.
12/15.

Bright eyes, and a zillion ticklish spots. Meet our newbie, in the preview section.
12/15.

Sick of seeing me domme all the time? Wish someone would teach me a lesson? Jamie grants your wish, on QualityControl this week.


12/8.

That much cash was too much to turn down. Follow Blue's unexpectedly frustrating POV journey...
12/1.

Alexis has had a long journey as a model here, from shy newbie in pantyhose to femdom helper. Today, she tries something new: 100% cast cocoon.
11/24.

Denver takes part in one-half of a pair of idential session scenes: one R-rated with her, one X-rated with a male client. She makes a good warm-up. ;)
11/10.

My new helper is really... helpful, much to Jensey's alarm.
11/3.

Joni's a mannequin!
10/27.

Carlin's broken arm requires very tender treatment.
10/20.

An orgasmy new girl tries her first cast in a kinky medical roleplay.
10/13.

It's been soooo long since Harley's done anything kinky. She gets too turned on, too fast...
10/6.

Lizzy's in a leotard tickle cast.
9/29.

Ginger wakes up not only on the wrong side of the bed, but the wrong side of mobility: Frozen in a cast dream.
9/22.

A ditzy cheerleader knocks on the wrong door and winds up casted, tickled, and vibrated.
9/15.

Guess who's back from a summer away, and dying for some immobilization?
9/8.

Our sexy, curvy dancer has hugeee... assets. Too big for a cast?
9/1.

A broken arm can be kinkier than she thought.
8/25.

Spend the night with DJ, as she explores the possibilities of chastity. For you.
8/18.

A hard-body hottie lulled into a soft and subbie trance...
8/11.

What's the point of reaching for the keys if your lock's encased in fiberglass? No, seriously, that's not a rhetorical question.
8/4.

A new girl's first cast covers 96% of her body. She's got the best reactions when she tries to move.
7/28.

Back-talk will not be tolerated in this school!
7/21.

Cheerleader's got weeks left in her leg-and-hip immobilizing cast.
7/14.

Darren's out in her wheelchair, getting ice cream and making people turn their heads. And her hands are stuck in her lap, for the world to see.
7/14.

Fan of stuck, tickled feet? Visit ConversationPiece this week and watch me torment two gorgeous, willing subjects...
7/7.

Trapped as a standing, vibrating mummy for the day...
6/30.

A femdom fibgerlass bondage session, starring Melissa as the meaneast girl ever, and Dorian as her latest groupie.
6/23.

Live-action bodycast session. Come see.
6/16.

Newbie Shayla gives us a run for our money. Well, not literally, because she has multiple leg casts, but you get the idea.
6/9.

Lizzy had such a nice time in her last tickle situation, I make her double-immobile and make her feel even nicer...
6/2.

The casts are a new twist for Mina, but the multiple medical gags are familar.
5/26.

A life-changing day for me...
5/19.

A story continues... Today, Miss Harley visits Our Hospital with yet another Earth Shattering Problem. Doctor Cribbs can help. Or Can He!!??
5/12.

Our newbie runner-girl keeps trying to stretch out her legs, bent double in casts. Doesn't quite work that way...
5/5.

Linda's promised "payback" isn't quite how she envisioned it...
4/28.

Let yourself be lulled by our newbie's big brown eyes and quiet story of her 10-month cast... from within her current fiberglass encasement.
4/21.

A slinky 18-year-old with perfect toes explores your fetishes. Did I say "explores"? I meant "exploits." You're in love.
4/14.

We explore CBT 101, a valuable life lesson, in today's update. Check the previews.
4/7.

Meet our Fiberglass Double LAC Barbie!
3/31.

Today, we explore my lecherous infatuation with 18-year-olds and fiberglass.
3/24.

Four Hitachis are better than one.
3/17.

Harley's got a problem. Nothing a little therapy won't solve, sweetie...
3/10.

Sasha's stuck in a big pink shell. Uh, what's that purple thingee?
3/3.

Darren heads out on the town in a full-view Minerva chastity cast...
2/25.

"I SO didn't sign up for this..."
2/18.

30 minutes of non-stop tickling, on a totally unprepared newbie.
2/11.

Oh no! Joni's going to be in these leg casts for months!! She can't do anything!
2/4.

Denver bucks like a bronco. Which is a feat, in a rigid bodycast.
1/28.

Meet my new helper. Meet our set of four SLCs. Melt.
1/21.

I put a freckle-faced cutiepie newbiegirl in a big blue bodycast. Just for you!
1/21.

And, on QualityControl today, we introduce our latest new kick-ass hot pink totally immobilizing straitjacket. Only one on the planet. Wanna see? :)


1/14.

Should NOT have given Harley that Magic Wand. It made her, like, this fiberglass orgasm sorceress.
1/7.

New girl doesn't stand a chance, in this position...
12/31.

We don't take it easy on our newest newbie.
12/24.

Riley wakes up in a very strange exam room, with a smiling, insistent nurse...
12/17.

Newbie Heather finds herself in hot pink high-heels and a bodycast to match.
12/10.

We get another adorable, freckled, curvy co-ed to let us cast and tickle her. This site must be soooo boring.
12/3.

Your requests, answered: Join me in a bodycast session on a gentleman who flew in from Europe just to be sealed up all day.
11/26.

We cure Star's masturbation problem with "orgasm punishment," and about 5 layers of thick fiberglass.
11/19.

Mikayla's back, and the Anonymous Vibrator Fairy has a new favorite bodycast girl...
11/12.

Your favorite institutional patient is back, in more bondage, and a thicker cast. Yes, we remembered how much she likes electrotherapy.
11/5.

Blonde newbie Carlin finds herself in a rigid, double-spreader bar bodycast... and tickled.
10/29.

Oh look, Nicole's back! And she's still really cute! And still likes bondage! And... oooh. Yeah, she really likes casts...
10/22.

Katie has a sit-down talk about immobilization, fiberglass, and other rigid topics.
10/15.

Introducing... the Anonymous Vibrator Fairy. She's only got on purpose, as a very rigid Amaya will soon find out...
10/8.

A favorite comes in for a new-and-improved cast -- and finds herself well-tickled, for the first time.
10/1.

Curious co-ed answers a weird ad: "Fantasy girl sought for fetish fun." You reap the reward.
9/24.

She says a bodycast is too weird to be sexy, but she's clearly excited. She says she's not at all ticklish, but can't stop squealing when my nails touch her exposed parts. Anabelle's full of contradictions.
9/17.

Newbie wants to see how her immobilization fetish meshes with my casting skills. We have a nice time.
9/10.

Pantyhose and popcorn and newbies and gags and Eliza and blindfolds and struggling and ice and oh come inside already!!!
9/3.

Newbie seeks a real experience, "Like you might give a client, please..."
8/27.

Denver endures an extended tease-and-denial session, through three layers of mummy wrap.
8/20.

Finally: She's been putting girls (and boys) in rigid fiberglass bondage for weeks. Now, my new helper gets her turn inside the cast...
8/13.

Catch our latest newbie, quick! She shouldn't be doing this sort of thing.
8/6.

A local free spirit comes in, learns about immobilization...
7/30.

Little sister learns her lesson. But big sister's going to get punished, too...
7/23.

In a diver-suit style FBC, Lila sucuumbs to my "advances"...
7/16.

Another week, another newbie model named after a U.S. location. And another bodycast, too.
7/9.

Tiny teen newbie Denver's got a big secret...
7/2.

Cara spends the day in fiberglass and braces. Wanna watch?
6/25.

Meet our Roman goddess of a struggler. She doesn't get too far.
6/18.

Some nice mother-daughter-boyfriend roleplay, this week. Only Josie, you know what I mean?
6/11.

A Hitachi introduction for little bodycast Alexis.
6/4.

Sophie's looking pretty in pink.
5/28.

Newbie Jamie's stuck in a good one. Go see it all, in the previews.
5/21.

Zero to 60 on another sweet model, new to this whole casting thing...
5/14.

Uh-oh... I take advantage of another newbie. No, seriously, I don't ask permission on this one...
4/23.

Our newest co-ed swears this cast isn't sexual for her--even as her breathing gets faster and her face goes all pink...
4/16.

Quinn + vibrator = update.
4/9.

Last woman standing.
4/2.

I have a crush on Sasha's little sister. Wanna see how I treat girls I like?
3/26.

Sophie's tickled till she can't take it, and Suzie models her first arm cast.
3/19.

"I can't move one... single... inch" sounds soooo much better in Czech. Meet Jenni.
3/12.

"Can you do something.. a little weird... for me?" asks newbie Suzie. Of course I can.
3/5.

Christina's tangled up in blue, and we feature a new helper.
2/26.

Newbie: "I didn't think it would be this... rigid..."
2/19.

Great fun with Ms. Savannah, a true fetish enthusiast.
2/12.

Sahara is pretty in pink.
2/5.

Misbehaving Darren gets an inversion lesson.
1/29.

Ella and I have an orgasm competition. At CYE, everyone's a winner. :)
1/22.

Ever wished you could come here for a casting session? Try this week's update...
1/15.

Say hi to our new co-conspirator, Ms. Savannah.
1/8.

Amber graduates from an LLC to an FBC. We have it all on video.
1/1.

Rosie is just tickled to be in a cast. Yes, tickled. To be in a cast. ...tickled.
Get it? (we tickle her.)
12/25.

FINALLY: I'm the one in a cast. A full-body cast. Face, hands, everything. Mmm.
12/19.

Nicole's back. You remember her. She's the one who likes bondage and orgasms n stuff. Remember? Yeah, you remember.
12/12.

Sasha's brought a friend... a cute friend on which to practice her domme skills.
12/5.

Oooh, we go Lucy!
12/4.

Oooh, we got blue!
11/28.

Miss Ashley finds out what happens to misbehaving schoolgirls...
11/21.

Ella has a dedicated, and wonderful, casting weekend with us. First on the list, nighttime chastity. Have to keep her energy up for the long days to come.
11/14.

Hold on... if she hates tickling so much, why does she keep coming back?
11/7.

Wow. I thought I was bad... Charlie proves she likes casts at least as much as me.
11/6.

On CP, MaryBeth exploits Darren's pantyhose fetish. God I wish I was Darren.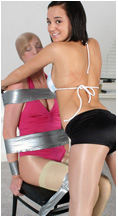 10/31.

Cathi totally covered... well, except for her boobs...
10/24.

Newbie's just so excited to be in a bodycast... until she realizes I'm not letting her out.
10/17.

Charli and I cast a boy, from head to toe. And everywhere in between. Wonder if *that's* been done before...
10/10.

For some reason, Reagan's back for more tickling. I introduce her to my Hitachi. They get along wonderfully.
10/2.

Is it just me, or is Andy the sexiest piece of dining room furniture you've ever seen? Just need three more to make a set...
9/26. I'm all over the place today. On Quality Control, I make Dahlia a helpless pink mummy... thing. And on CP, I take Joey and... well... see for yourself.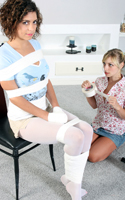 9/26.

Attention: Anyone who enjoys seeing smart, pretty girls immobilized and vibrated, please click *here*.
9/19.

Gosh but it's hard to tell one ticklish, rigid hottie from another... all I see is helpless feet... Welcome Jerri.


9/12. Billie wakes me up before noon. I take my revenge in the form of black fiberglass.
9/5. Darren's cast is spank-friendly. In more ways than one.
9/4. Over on Quality Control, we string up one of our faves. She can only take the heat for so long.
8/29. It's Nicole's Orgasm EXTRAVAGANZAAAA!!!! Oh, yeah, there's a bodycast, too.
8/28. ConversationPiece.cc presents... a Dahlia-and-Alana-Used-to-Be-Friends Production... Click for preview.

8/22. Over on QC, it's Segufix Appreciation Week! Go check it out!
8/21. Payback time, Piper.
8/14. Grrr. This week QC infringes on our territory. Body-brace bondage in this week's update.
8/7. All those yoga classes paid off...
7/31. We've been saving -- savoring? -- this Gezebel casting for a while... not sure if everyone's ready for the hotness...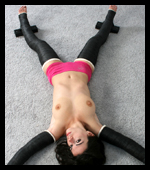 .
7/24. Reagan is RIDICULOUS when she's being tickled to death. No, seriously, she's a squealer.
7/17. Pretty Payton's back. Rigid and vibrated. No one wants to see that, right? .
7/10. Meet Billie. Can you see her under all that? Jeez.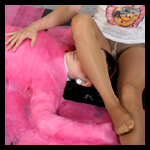 7/3. Ever think you'd see a girl actually break out of a bondage cast? Me neither. Jenn & Yvette give it their all, though.
7/1. Yayyy! Finally finished my restraint services website! Time to celebrate by turning a hot blonde into a totally obscured anonymous piece of fiberglass furniture.
6/28. Sophie visited from L.A. last week. We greeted her with weird Houdini box bondage..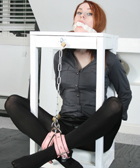 6/26. A butterfly flaps its wings in China, and Charli winds up in a bodycast.
6/21. Miranda finds out Summer's new "sleeping bag" does, indeed, keep you warm all night. Whether you want it to or not.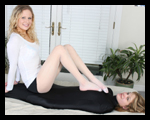 6/19. Cat burglary casting. You know, that old role play...
6/17. Miles learns a lesson about how to tease boys.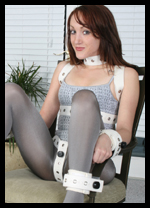 6/17. OMG how do we go through latex exam gloves so quickly!?
6/14. I made a new friend today! Beauty&Braces.com has a ton of metal-mouthed cutiepies. I've never had braces, but I'd loooove to get them...
6/13. Ella's games are no fun. Unless you like plastic wrap and vibrators and electroplay.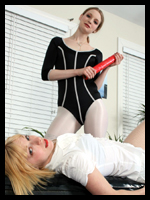 6/12. Darren had never been fully bodycasted before, with a vibrator stuck in place. I felt reallllly bad for her, so Craig and I remedied the situation. :)
6/9. Meet Dr. Ashley. She's willing to keep her patient restrained for as long as it takes.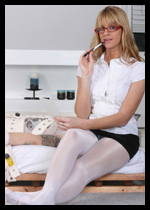 6/9. Just put a big order through of more pink, white, and now BLACK fiberglass! God, does anybody NOT want to get casted around here?
6/7. Take my advice. Never give a redhead attitude -- or the keys..

6/5. What could be better than a rigid below-the-armpits cast with a vibrator hole? The girl inside it. Come meet the cutest little co-ed in the preview section. :)
6/2. What is it about Czech girls and chains that makes me feel so blushy and giggly? You tell me.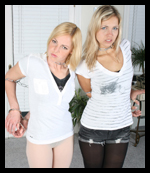 5/29. What better way to honor Payton's eternal beauty than with a statue, right?
5/29. Man, Yvette may look sweet, but she is one kinky girl... check her out on QualityControl!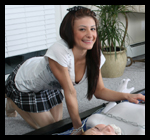 5/25. VISA processing is now approved.
5/22. Ashley experiences a quartet of cold fiberglass pieces. Check the previews.
5/18. The emails have been heartwarming, friends. I can't wait to get some sessions going, get some of you in my clutches--and break out my nurse outfit.
5/18. We've got four bondage newbies coming in for the other sites, this and next week. Let's see whose eyes light up like a perverted pair of headlights at the mention of being immobilized. :)
5/15. We are up, live, and just as operational as that "Death Star" Lando's heading towards.
4/24. Today we put a really pretty girl in some rigid fiberglass.
4/18.Typing this with my nipples. Producer won't cut my hand-casts off. Brrr. Cold in here.
4/18. Happy Tuesday! My order of the pink stuff came in! Girls rule.
4/11. It's rainy, come over and get casted!
4/04. Bodycast my friend in the thinker's pose. It's an allegory for the human condition.
3/28. We put some girls in some fiberglass today. Just another day at the CYE office.
3/01. Has anyone seen my dremel?! It's dremelly and looks like a dremel, so...
2/18. Watching Star Wars marathon in two arm casts. Used the force to reach my beverage.
3/28. Rome wasn't built in a day and neither are weird fetish porn sites.
1/7. Note to self: Acquire a second casting saw in case our burns out. Model spending the night in mummycast. Oops.
1/5. Hey baby... wanna sign my cast?
1/1. Gave kitty a paw cast. First attempt at cast successful.